Table Massage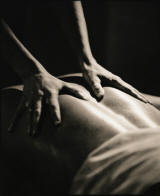 Table massage is available at our location at Massage Associates, 318 Erin Drive, Knoxville, TN 37919
Steve Citty has been providing table massage in Knoxville since 1991. Steve has trained in a number of modalities and brings experience with deep tissue massage, myofascial release, trigger point therapy, oriental acupressure massage, sports massage, Swedish massage and bioenergetics to each session.
The purpose of the massage that I provide, is to address soft tissue situations in your body that are causing pain, distress and disharmony. It requires the participation of the client to communicate the presence and intensity of pain or discomfort. It takes the team work of the client and therapist to maximize the efficacy of the treatment.
Treatment techniques include:
Trigger point therapy for the alleviation of trigger points.
Acupressure techniques Amma and Jin Shin.
Deep tissue massage
Sustained pressure (digital pressures) to alleviate hypertonic (tight) areas within muscle and fascia.
Myofascial (muscle and fascia) release therapy for flexibility/mobility of the connective tissues of our body, or for alleviating fibrous adhesions and decreasing the severity of scars.
Broad handed techniques for reducing swelling or inflammation
Frictions for addressing adhesions between fascial layers, muscles, and muscle compartments. Frictions also promote healing in tendon pathologies as well as decreasing pain perception.